Support grows for proposed sporting precinct
Published on 01 November, 2012
Strong support has been shown for CQUniversity's proposed Mackay Regional Sporting Precinct as local, state and national sporting groups, government, community representatives and CQUniversity staff provided feedback on draft plans recently.
Leading architectural companies Architectus and ROSS Planning have unveiled initial design plans for the state-of-the-art precinct which features an ice skating rink, athletics track and field, an Olympic-size swimming pool, gyms, sports bar, chiropractic clinic and more.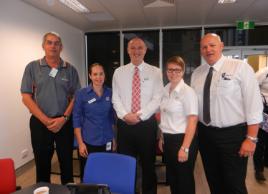 CQIT's Russell Gardner, Mackay Regional Council's Linda Single, Gerard Carlyon, Gemma O'Neill and CQUniversity's Ron Tollasepp. The precinct has been included in CQUniversity Mackay's new master plan, which draws together current buildings on campus, the proposed Sporting Precinct and the TAFE Trade Training Centre which is currently under construction.
CQUniversity's Head of Campus in Mackay and Pro Vice-Chancellor (Community & Engagement) Professor Pierre Viljoen said he was confident that the plans would encompass everyone involved as the campus begins further transformation in the coming years.
"CQUniversity is set to become a dual-sector university which means the Mackay campus will be accommodating not just our current and future university students and staff, but CQ Institute of TAFE (CQIT) students and staff in the very near future."
"We are excited to be welcoming a diverse range of students on campus from certificate level to PhD, and we want to be able to provide facilities that will encourage a seamless transition between the two institutions."
"CQUniversity also has a strong community focus in this region and the precinct will finally provide adequate sporting facilities for families and students across the Mackay, Isaac, Whitsunday region."
The precinct has earned the support of Mackay Regional Council and has been recognised as one of the Regional Economic Development Corporation's (REDC) key priorities for the region.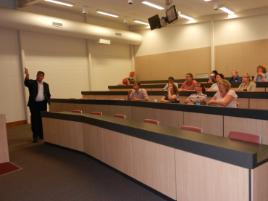 CQUniversity staff hear plans for the proposed Mackay Regional Sporting Precinct from CQUni Mackay Head of Campus Professor Pierre Viljoen.