Tanya's 'blue bird' photo clicks with judges, interest started at Mackay Campus
Published on 13 September, 2012
Congratulations to CQUniversity student Tanya Puntti who has won a Silver Award for her bird photo submitted to Better Photography Magazine's Photograph of the Year competition.
Her entry was selected by three Grand Masters of Photography from the Australian Institute of Professional Photography (AIPP). It was the result of two days spent 'ducking and diving' in a lagoon near Clermont.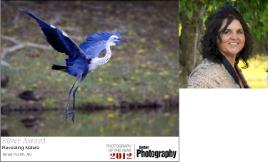 Tanya Puntti alongside her Silver Award photo
Tanya's latest success is part of a photographic journey which started on Mackay Campus and which has included shooting a poster for Channel Seven's The Zoo TV series.
Link to some of Tanya's recent aerial photos via http://500px.com/TanyaPuntti
"My interest in photography started with a course in Contemporary Photomedia, as part of my Information Technology degree (now on my Masters)," she says.
"In my work and business, experience in IT, multimedia and software development go hand in hand. For example, the last couple of years I have developed iPhone and iPad applications using my coding experience from my University degree, coupling it with the photography skills from Photomedia."
Tanya and her partner have been able to make a full-time living from their internet-based services and applications, including several high-traffic websites with advertising space and tailor-made virtual products.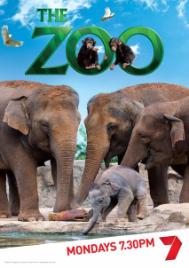 Tanya's Zoo poster image
One such website relating to photography (http://www.slrphotographyguide.com/) receives about 14,000 unique visitors per day from search engines and social media links like Facebook, 500px and Twitter etc.
Tanya developed a corresponding iPhone application which is sold on iTunes. The app is selling well and Tanya and her partner are in the process of developing a second photography related app, this time for the iPad. The iPad app will feature a magazine-style design, where customers can purchase ebooks/pdf tutorials from within the app on a month by month basis.
"Our IT-related business puts us in a unique position in that we get to travel extensively, taking photographs to use in our websites and applications," she says.
"A few weeks back I was hanging out of a helicopter (doors off) photographing the beautiful Whitsunday Islands, a week after we were in Melbourne, and soon we'll be in Sydney photographing sunrises on Manly Beach.
"Apart from using the photographs in our own applications, we also sell stock to Getty Images. Several months back we took a helicopter flight over the beautiful Great Barrier Reef. A few weeks later Getty approached me saying Asia Geographic had seen the reef images on flickr.com and was interested in purchasing them for an upcoming article in their magazine. I've also been published in Australian travel magazines and hard copy books, as well the Channel Seven TV advertising poster that featured an image of a baby elephant taken at Taronga Zoo in Sydney."
Tanya is keen to develop her career around her two current interests in software development and photography, blending the two.
"Photography in particular is an area I plan on extending into, publishing fine art prints and possibly entering the wedding market here in Airlie Beach where I live."
Tanya recently visited Hamilton Island shooting with three well known Masters of Photography (AIPP) Bruce Pottinger, Peter Eastway (landscapes), and David Oliver, a highly awarded portrait and wedding photographer.
"Their passion and enthusiasm for photography was contagious and left me wanting to get my work into the broader community, on the walls of family homes, businesses and galleries," Tanya says.