Audience packs venue as Noosa gets 'Unplugged'
Published on 28 November, 2012
A near 'sell-out' audience packed a room at the Reef Hotel while attending Noosa's first 'Research Unplugged' presentation recently (Nov 21).
Margaret McAllister, Professor of Nursing at CQUniversity, partnered with Jill Fisher, National Coordinator of StandBy (a service for those bereaved by suicide based at United Synergies in Tewantin) to give a joint presentation on the topic of suicide prevention, intervention and postvention (working with those affected by a suicide such as families and friends).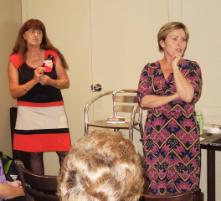 Jill Fisher (left) and Prof Margaret McAllister sparked discussion during the Noosa event
The audience consisted of interested members of the public and representatives from service organisations as well as CQUniversity staff and postgrads.
Both speakers took turns to talk about their respective experiences in the area of suicide and all agreed the mix of an academic research perspective with the views of a service provider within the sector was invaluable and informative.
Certainly the lengthy discussions that followed the one hour presentation indicate just how well the two presenters were received. Margaret herself received invitations to give presentations to three other interested groups.
Research Unplugged, an engagement initiative of the Institute for Health and Social Science Research, aims to give members of the general public access to important research findings that have relevance to their communities.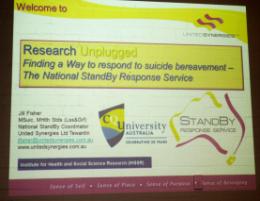 A powerpoint from the presentation
This is achieved by holding presentations in traditionally non-academic locations/venues such as pubs or coffee houses and by then further encouraging presenters to deliver their findings with less emphasis on academic jargon and/or statistics and to instead place more emphasis on facilitating discussion amongst attendees.
Given the success of the event, it bodes well for a return visit by Unplugged in the not too distant future.