You're never too young for a Uni experience
Published on 02 August, 2012
A chat between two business managers, from the school and higher education sectors, sparked a recent visit to CQUniversity Gladstone by pupils of St Stephen's Lutheran College.
Ruth Kinslow, the business development manager for our Queensland Centre for Professional Development, took on a suggestion from her school counterpart that "you're never too young for a Uni experience".
Children from a Grade 1-2 composite class had the chance to use microscopes at the Process Engineering and Light Metals (PELM) Centre, guided by Professor Richard Clegg and Dr Alan McLeod. They also helped plant sea grasses at the Centre for Environmental Management (CEM), guided by Professor Marnie Campbell and Rebecca Hendry.
School teacher Melissa Stickley and Marketing representative Sarah Perkins helped with the campus tour.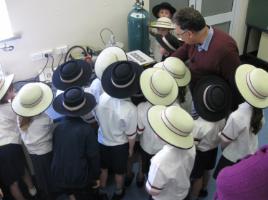 Professor Richard Clegg welcomes the budding scientists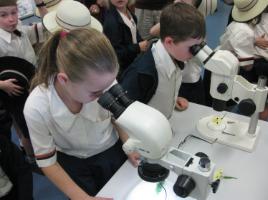 The visitors were keen to get a closer look