Still time to apply for BMC Building My Career scholarships
Published on 16 September, 2011
Students from the Mackay, Isaac and Whitsunday regions still have time to apply for a highly sought after BMC Building My Career scholarship, with applications set to close on October 20.
The scholarships are the result of A$1.1 million in funding from BHP Billiton Mitsui Coal (BMC) to remove cost-of-living expenses for students in non-mining skills degrees at CQUniversity Mackay.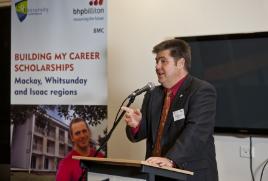 Head of Mackay Campus Dr Pierre Viljoen helps launch the new scholarships
BMC Asset President Michael Rosengren said the scholarships would enable students to access their local world class university with minimal impact to their budget.
"BMC understands that a potential roadblock to attending university for school leavers in the Bowen Basin can be the cost of living away from home," Mr Rosengren said.
"Often this cost and the desire to study loses in the battle against high-paying mine site roles available to school leavers.
"Studying locally also assists the students in acquiring placements in the local region for work experience and possible employment at the end of their course.
"This will add to the general pool of non-mining professionals in the community, as the scholarships are available in areas of community need such as teaching, nursing, chiropractics, medical imaging and business."
The BMC Building My Career scholarships will give students access to free accommodation at CQUniversity Mackay's new student residence for the duration of their study, along with three meals a day during the academic year.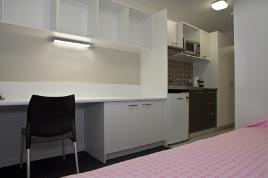 One of the rooms available for scholarship holders
The idea for the scholarships arose from a community needs assessment across the Mackay region which identified sustaining rural communities and managing the impacts of mining growth to be critical issues across the Bowen Basin.
The scholarships are overseen by the BMC Education Initiative Advisory Group, a group of BMC senior personnel and education and business leaders from the greater Mackay region.
Around 40 students over five years are set to benefit from the scholarships.
The scholarships are now open to local OP-eligible students who are applying for a place at CQUniversity Mackay for study in 2012. For details visit www.cquni.edu.au/bmc .