IHSSR salutes successful Mental Health Week Expo
Published on 15 October, 2012
Staff, students and researchers from the Institute for Health and Social Science Research (IHSSR), representing the University, participated in the Healthy Body Happy Mind Expo last Friday (Oct 12) and the inaugural Rockhampton Pride Walk as part of activities designed to raise awareness of good mental health during Mental Health Awareness Week...
The Expo, aimed at members of the public, was supported by a number of service providers from across the region who set up information stands, including Red Cross (who prepared a free barbecue lunch), Good Sports, Queensland Health's Mental Health division, Centacare, Relationships Australia, OzCare, Suncare, the Public Trustee, and several others. The public Expo was held at the PCYC in Bridge Street with stall holders set up downstairs under the main building while activities including tap dancing and choral singing took place upstairs to keep attendees entertained. Videos from service providers also ran upstairs all through the day.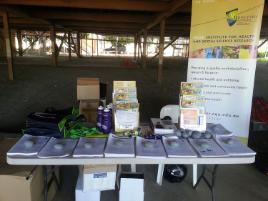 IHSSR display at the Expo: before the rush!
The Pride Walk from south Rockhampton and across the Fitzroy River bridge attracted 66 participants, many of whom confessed pride in hearing the toots of support from motorists (prompted by a call from ABC Radio Capricornia) as they arrived at the PCYC at the end of their walk. Children and adults of all ages took part in the event and organisers look certain to run it again next year, such was its success.
IHSSR spokesperson Dr James Douglas praised the organisers of the annual Expo saying he felt it was the most successful he had participated in to date.
"The IHSSR has been attending these mental health events for several years now, and this year was the first time we have ever run out of materials," he said. "We gave away loads of bags filled with brochures about our projects and Institute as well as the usual promotional items such as rulers, pens, mints and, most popular of all, stress brains!"
"We also fielded a number of enquiries about postgraduate study and handed out quite a few 2013 prospectuses," he added. "Most importantly for our group, we also handed out a large number of copies of some of our research publications so I know there's quite a few homes with information about us and the University generally that possibly didn't have it before."
"As a community and sector engagement excercise it was definitely a success, as well as a great cause," said Dr Douglas. "We'll certainly be there again next year."
Mental Health Awareness Week is held each year in October.