Art gallery hooked on CQUni testing
Published on 02 February, 2012
The Gladstone Regional Art Gallery will soon host an exhibition entitled Australian Portraits 1880 - 1960: Paintings from the National Gallery of Australia Collection.
The National Gallery asked Gladstone Gallery to determine the strength of the hanging fixtures and chains to ensure that the paintings would be safe. The Gallery then asked CQUniversity to test the chains and fixtures to give an indication of the safe working loads of the wall fixtures and fittings.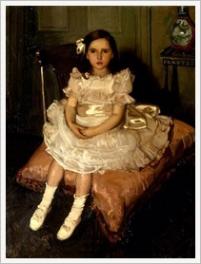 A Hugh Ramsay oil on canvas which is part of the exhibition. From the National Gallery catalogue
Dr.Alan McLeod, Senior Research Fellow at the Process Engineering and Light Metals (PELM) Centre based at CQUniversity in Gladstone, this week carried out load testing of the Gallery walls.
The PELM Centre has already undertaken a series of laboratories tests to measure the breaking strains of the chains and hooks.
The Australian portraits 1880 - 1960 exhibition features bushrangers, flappers and fashion icons and includes 52 portraits by 34 leading Australian painters, including Tom Roberts, George W. Lambert, Grace Cossington Smith, Margaret Preston, Arthur Boyd, Sidney Nolan, Russell Drysdale and John Brack.
You can LINK HERE for details about the exhibition scheduled for Gladstone Regional Art Gallery between February 11 and May 12.