Seeking plants that are hungry for cancer-causing chromium
Published on 07 September, 2011
Chinese researcher Lin Ma has been screening dozens of different tomato plants and grasses to find those which are hungry for chromium, a common soil contaminate which makes soils useless for growing foods. Chromium accumulates in soils explosed to herbicides, pesticides, fertilisers, sewage and even shiny chrome on car parts. It costs too much to use chemicals to remove it.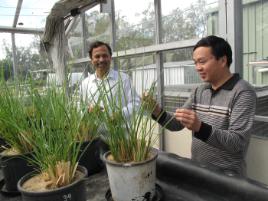 Visiting Chinese researcher Lin Ma with CQUniversity's Nanjappa Ashwath, inspecting which grasses are best at soaking up chromium
However, researchers are seeking out plants that can not only tolerate chromium, but also accumulate large amounts. This process called 'phytoremediation' concludes with harvest and destruction of the chromium-soaked plants to ensure the soil is ready to grow food crops.
Professor Ma has spent the past year based at CQUniversity Rockhampton Campus, where he has been working alongside Associate Professor Nanjappa Ashwath at the Centre for Plant and Water Science (CPWS).
The professor of plant physiology at China's Southwest University of Science and Technology has been supported financially by the China Scholarship Council to visit and research at CQUniversity.
"During my stay, I have conducted tissue culture and glasshouse experiments. I have screened 45 genotypes of tomato for chromium tolerance and accumulation," he said.
"This could help us identify high chromium uptake genotypes. These genotypes can be used to remove chromium from contamination sites via phytoremediation.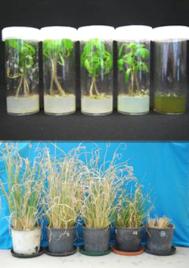 Images of tissue culture and glasshouse experiments
"I also conducted a glasshouse experiment to test if vetiver grass can be used in phytoremediation.
"My research experience in CQUniversity will be very helpful for my future work in China. The established collaboration of both sides between Australia and China will be further strengthened through academic exchanges with visiting scholar and students."
Professor Ma said he was grateful to CQUniversity's Professor David Midmore for supporting his visit and also to CPWS staff for assisting with his research.