Rocky's Bike4Life attracts 263 cycling enthusiasts
Published on 03 August, 2011
Rockhampton's Bike4Life event has attracted 263 participants - well up from the 120 who took part in the inaugural event last year.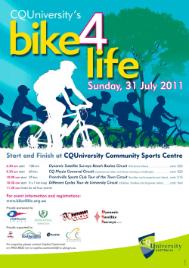 LINK for a larger image
Riders of all ages and abilities had the chance to take part in the event conducted by Rockhampton Cycling Club and Rockhampton Regional Council in partnership with CQUniversity.
Departing from the CQUniversity Sports Centre, the event included a 5 x 1km Different Cycles Tour de University Circuit, a 25km Frenchville Sports Club Tour of the Town, a 60km CQ Physio Cawarral Circuit and 100km Dynamic Satellite Surveys Beach Bashes Circuit. This event proudly supported The Amy Gillett Foundation and the Sporting Wheelies and Disabled Association.
Chair of the organising team, Associate Professor Peter Reaburn says the very successful event exceeded expectations in terms of numbers participating and the feel of the day.
"There was plenty of fun and friendship happening with cycling enthusiasts coming together from all walks of life to share their love of being outdoors and staying healthy," Dr Reaburn said.
"The event reflected the commitment and hard work of the workers behind the scenes - Sophia Czarkowski from the Rockhampton Regional Council, Joe Adair from the Rockhampton Cycling Club, Trishia Cutler from Transport and Main Roads, Bill Bowtell from Roadtek, Gary Olive from the SES, Aimee Bartlett from CQUniversity, CQUniversity Exercise and Sport Science student Conor McGrath, Chris Galinovic from Rockhampton-Fitzroy Rotary Club, and Mike Oxley from Capricornia Sporting Wheelies. CQUniversity's marketing and communications team greatly help us promote the event.
"Our major sponsor, CQUniversity, also provided thousands of dollars of 'in-kind' support that added an element of professionalism to the success of the day. Next year we will be targeting 500 participants and have already been approached by Cycling Queensland and prospective corporate sponsors for the 2011 event."