Whole community welcome at Indian Association's festival
Published on 11 October, 2011
Rockhampton region residents are encouraged to join hundreds of people expected to attend the Indian Association of Central Queensland's Diwali Milan (Coming Together on Diwali) event.
Sponsored by CQUniversity and held at the Community Sports Centre on Rockhampton Campus, this 'Festival of Lights, Colours, Sound and Food' will be held from 3pm to 9pm on Sunday, October 16.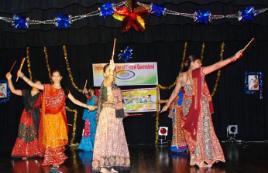 A dance display from last year's eventEntry passes are available for $20 (adults), $10 (students and concession) and $50 (family). They are available via Dhamodharan Raman on 0401 633 124.
Dr Raman says entry passes cover food and entertainment. He expects people to travel from as far as Gladstone and Emerald to attend what is expected to be one of the region's biggest cultural events.
"Diwali - the festival of lights is the biggest festival celebrated by all Indians and Nepalese. We'll have community leaders and people from many different backgrounds in attendance.
"This is one of the most successful events organised by the Indian Association and has attracted more than 650 people in and around the CQ region in past years.
"Diwali Night comprises Indian music, Bollywood music, Indian Classical, Folk and Bollywood dances followed by authentic Indian dinner."