Amateur foodies invited to cook up a storm in Big Cake Bake
Published on 22 August, 2012
Elliot Jennings and Kati Norman will combine their creativity and love of baking when they head up the first ever CQUni Big Cake Bake - and they are seeking community support.
They are calling on members of the public to help out by baking their favourite treats and bringing them along to the Big Cake Bake on Monday, August 27.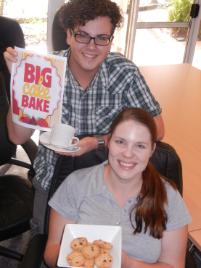 CQUniversity students Elliot Jennings and Kati Norman prepare for the first CQUni Big Cake Bake to raise funds for the Red Cross. The baked goods will be sold to the public, with proceeds going to the Red Cross to support domestic and international causes.
"We are inviting people to bring cakes, slices, biscuits, muffins, scones, or anything they can bake along on the day," Mr Jennings said.
"We also need them to provide a copy of their recipe for allergy reasons."
The self-confessed bake-aholic said he had seen the idea on the internet and thought it would be a bit of fun.
"I've always loved baking and grew up with grandma baking all kinds of things in the kitchen."
It was Ms Norman who helped him make the idea become reality and worked behind the scenes to make it happen.
Mr Jennings will be baking his speciality dish - which is a sticky date pudding with coconut-toffee topping.
The first-year Bachelor of Arts students have also been busy generating support in the form of more than $400 worth of prizes to be raffled at 2pm on the day.
"We approached local businesses to support the Big Cake Bake and it has been incredible to see how generous they have been," Mr Jennings said.
"Raffle tickets will be sold for $1 and there are some great prizes to be won including gift vouchers for Gina T Hair & Beauty, Porters, Sorbellos Italian Restaurant, Juanna's Gift and Homewares, Hairhouse Warehouse and P Comino & Sons."
Raffle tickets can be purchased before the day from the CQUniversity Library or M'Lady's Shoe Boutique on Wood Street. Prizes can be picked up from the Student Association during office hours if winners are not present at the time of the draw.
Mr Jennings said he hoped the first ever Big Cake Bake would be well received by CQUniversity staff, students and members of the public.
"I'm looking forward to seeing the type of baking people bring along and I hope we get some interesting recipes on the day," he said.
"It's also a great way to raise money for a very important cause."
The Cake Bake will take place on Monday, August 27 from 10am just outside the CQUniversity Refectory, Building 5 on campus at Boundary Road, Ooralea.
Those interested in contributing are asked to please bring their baked goods just prior to 10am and provide a copy of the recipe for allergy reasons.
To find out more, please contact Elliot Jennings on 0458 567 153 or email elliot.jennings@cqumail.com or kati.norman@cqumail.com.