Pierre to lead peak engagement body
Published on 26 July, 2012
CQUniversity's Pro Vice-Chancellor (Community & Engagement) Professor Pierre Viljoen has recently been elected as Chair of Engagement Australia, in a major coup for CQUniversity...
Engagement Australia, formerly Australian Universities Community Engagement Alliance (AUCEA), was formed in 2004 to promote and facilitate discussion and development of university-community engagement across Australia and Asia Pacific.
In recent years, Engagement Australia has seen a change in strategic direction to also include individuals, business, industry and community-based organisations that are committed to supporting the growth of university-community engagement.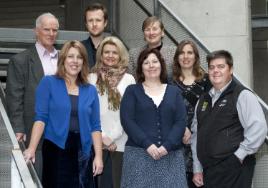 Engagement Australia Board members (L-R) (back row) Professor Jude Butcher, Ben Roche, and Associate Professor Diana Whitton, (front row) Sharon Douglas, Jacqui Martin, Letitia Fickel, Traci Gamblin and Professor Pierre Viljoen. Absent Dr Rob Brown and Carol-Joy PatrickThe organisation now has 25 member universities across Australia and established connections with organisations in Northern Europe, Asia and the United States.
Since joining the board in 2010, Professor Viljoen said he has seen the organisation grow into an important support network for university-community engagement on a global scale.
Professor Viljoen said he was pleased to be taking on the role of Chair, during a time in which Engagement Australia is seeing substantial growth.
"Engagement Australia is a vital support network for universities and their affiliates who wish to grow their engagement with internal and external communities and I am proud to be serving as Chair of such an important organisation."
"I am also looking forward to sharing CQUniversity's engagement initiatives with other universities worldwide."
Engagement Australia recently hosted its annual three-day International conference in Brisbane with more than 160 delegates from Australia, New Zealand, South Africa and the United States.
The theme of this year's conference was 'Community Engaged Learning' with a focus on the four key perspectives of community, student, business/industry and academic.
For more information visit http://www.aucea.org.au/.