Visiting Consul General makes time to meet students
Published on 18 April, 2013
US Consul General Niels Marquardt made a point of meeting a range of CQUniversity students during his visit to Rockhampton Campus this week. Professional Communication student REBECCA SCHICK had the chance for a one-on-one interview to produce this report ...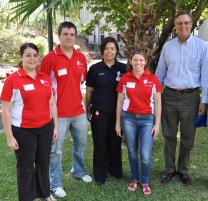 US Consul General Niels Marquardt meets CQUniversity students L-R Tarina Scoleri, John Lowry, Leah Millar and Bonita Thomson
US Consul General Neils Marquardt visited the Rockhampton Campus as part of his second trip to the city. One of his purposes for the visit was to see one of Queensland's major universities.
LINK for details on the US Consul General
Mr Marquardt is a highly qualified man who has attended different universities and has shared that if, whilst he was studying, he was aware of CQUniversity he would have considered it for his tertiary education.
"Most Americans would know Sydney, they'd know Cairns and the Great Barrier Reef and Brisbane, Melbourne but Americans would not know regional centres like Rockhampton.
"If you wanted to study Marine Biology or anything, like veterinary science, there are a lot of things that would lend themselves particularly well to this location but it is a question of getting the word out."
American students come to many different places in Australia and Mr Marquardt expressed that he believes for an American student attending a regional university, it has many benefits.
"You probably get more out of the experience by coming to a regional university where you are more unusual and you are more special."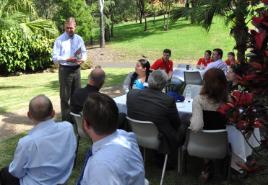 The US Consul General addresses CQUniversity staff and students during a luncheon reception
As there are many rewarding things about attending a regional university in Australia, for Mr Marquardt, there are many differences to the way in which an American university works compared to an Australian institution.
"When you turn 18 it is just part of our culture that you would choose some place and go away and live in a dormitory, which is usually on the campus run by the university.
"To me that is the biggest difference," Mr Marquardt expressed, "in America we have this notion of going away to college".
Many Australians do not move away to go to university which is something foreign to Americans, which makes a regional university rather appealing.
Mr Marquardt voiced that it is not normally in the Australian culture to move away to participate in university, which is the best part about having regional universities.
"Having something that's close or even nearby opens doors that are critical to keep open."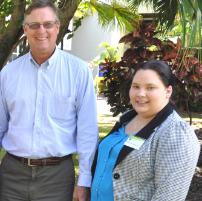 Professional Communication student Rebecca Schick had the chance to interview the visiting VIP
He also was impressed with the quality of the distance education that is an option for many students, which is a quality that is not as advanced in America; something that can be learnt by America.
"Not only do you provide education for people right there, you have set-ups with the technology in these places, where someone out in Longreach or Winton, can enrol and be a full-time student at many different universities like Central Queensland University."
The relationship between America and Australia, according to Mr Marquardt, is a great relationship across the board. There are areas where the relationship could possibly continue to grow.
"We could easily double the number of Australians studying in America either as exchange students or going there for a degree and it wouldn't be disproportionate to the relationship."
We today, as a region, share a positive relationship with America and Mr Marquardt has stated if we just keep growing what we're doing and trying to protect it and expand it, we can continue to keep a good relationship.