Olympic champion Geoff Huegill awarded honorary degree
Published on 05 July, 2013
Australian Olympic swimmer and come-back king Geoff Huegill was awarded an honorary Master of Sports Science degree on Thursday, July 4 for his contribution to the sporting industry.
The five times World Champion butterfly swimmer returned to his hometown of Mackay to be conferred with the award at CQUniversity's Graduation Ceremony.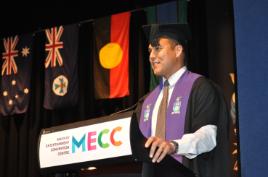 Geoff Huegill addresses the audience at the CQUniversity Mackay Graduation ceremony. Huegill was also guest speaker for the event, addressing more than 100 graduating students, to give an insight into his inspirational climb to the top and his well-publicised challenges along the way.