Graduate Shae shares loves of sport with Skippy
Published on 04 July, 2013
Shae Holmes may be one of CQUniversity Mackay's highest achieving students for 2012 but she's also on a par with Graduation guest speaker and Olympic athlete Geoff Huegill when it comes to her passion for sport.
Shae joined Huegill on stage at the CQUniversity Mackay Graduation Ceremony on July 4, when she delivered the 'Response by Graduates' speech. More than 100 students were awarded their graduation testamurs at the event.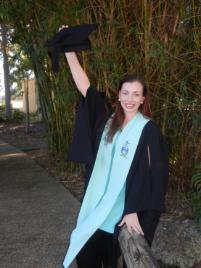 Shae HolmesGraduating with a Bachelor of Learning Management (Early Childhood Education) with Distinction, Shae is also one of the region's leading female golfers.
Since completing her degree at the end of 2012, Shae has been working at Emmanuel Catholic Primary School as a Year 3 teacher and says she is relishing the opportunity to fulfil her dream to educate young people in the community.
"Each day 26 children walk in with a smile and are excited to learn new things," Shae said.
"I had a great experience during my schooling life and want other children to experience the same.
"Teaching is also an occupation that offers a new challenge each day."
Shae, who has lived in both Dysart and Mackay, attended school at Emmanuel Catholic Primary School and Holy Spirit College.
While her teaching career is now her main focus, Shae said she won't give up competitive golf and is always finding ways to better her game.
"I've been playing golf for 10 years now and although it seems like a sport that is not traditionally for females, I have made many friends from all over Australia through the sport."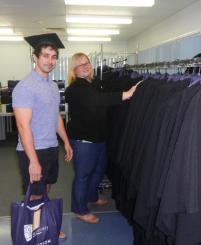 Michael Clarke is preparing for his graduation tomorrow with CQUniversity's Graduation Coordinator Sandii Gabel. Shae has represented and won numerous tournaments for North Queensland. She has also travelled all over Queensland and Australia to participate in competitions. She says she's thankful for the opportunities she has gained from the sport.
LINK to 'Olympic champion Geoff Huegill awarded honorary degree'