Interactive exhibition encourages audience to explore digital media
Published on 27 September, 2012
Have you ever wondered how 2D and 3D animation works, or are you interested in graphic design, photography or illustrations? ...
Prepare to be blown away by an interactive digital media exhibition by current CQUniversity students and recent graduates of the Bachelor of Multimedia Studies program*.
LINK also to Nicholas brings characters to life for Raw Digitalent event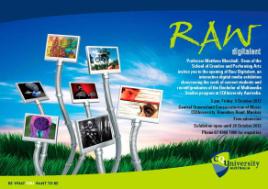 Click here for hi-res imageRaw Digitalent is a free exhibition to be officially launched on Friday, October 5 from 5pm at the Central Queensland Conservatorium of Music at CQUniversity Mackay. It will remain open to the wider public during business hours until October 26.
The exhibition will feature 2D and 3D animation, graphic design, web design, games, illustration, photography and video.
Unlike regular exhibitions, the Raw Digitalent will give audiences the chance to interact with the art work and is designed to appeal to a wide audience.
This exciting exhibition will feature the work of Jasmine Alderton, Faith Appleton, Janine Bennett, Alex Byrne, Madisson Carlton,Ryan Conway, Maximilian Fleet, Bianca Gockel, Karen Grech, Solomon Hammond, Scott Harbinson, Mark Heuer, Blake Hodges-Langford, Nicholas Howell, Mathew Jorgensen, Luke Mallie, Daniel Manion, Samantha Martin, Tony Middleton, Matthew Moyle, Stephen Nixon, David Pierson, David Pyke, Steven Randall, Billy Rees, Clara Rhoden, Melissa Scheeres, Dena Shaw, Paul Stone, Garry Thayer, Linda Turner, Tone Studio, Mallika Wijetunge, Wing Yin Wong and Hui Zeng.
A preview to the Raw Digitalent Exhibition by Multimedia Studies students

A screenshot from a video produced by student David Pierson. No bookings are required for this free event. Please phone 4940 7800 for enquiries or join the event on Facebook.
*The Bachelor of Multimedia Studies is a three-year degree program at CQUniversity that prepares students for a career in the digital media industries.
Phone 13 27 86 to request an information pack.