Unique sonography program taught out of a Sydney CBD high-rise
Published on 30 March, 2012
CQUniversity this week launched a unique medical sonography program based at a $1.5 million laboratory on the 11th floor of its CBD campus at 400 Kent Street, Sydney.
As this is Australia's only sonography program available for undergraduate entry (with postgraduate exit), there's been an enthusiastic response from students keen to help relieve a critical health workforce shortage.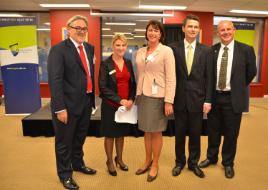 L-R DVC Alastair Dawson, Campus Head Susan Loomes, The Hon Melinda Pavey MLC, Parliamentary Secretary for Regional Health, City of Sydney Councillor Shayne Mallard and VC Scott Bowman
LINK also to From Outback to CBD, Lucy's a multi-skilled sonographer
and Helping medical imaging technology move with the times
Many of the students for the first intake attended a launch of the new facility on Tuesday evening. There are currently 33 students enrolled in Year 1 courses in the Sonography program at Sydney.
The modern six-bed medical sonography facility features state-of-the-art digital technology and simulated learning clinics. It has advanced 3D/4D capable Philips ultrasound units worth $450,000, 10 'Phantom' body torso training units worth $75,000 and a full multifunctional laboratory.
Students will study at the CBD facility and gain extensive clinical experience with established sonography professionals.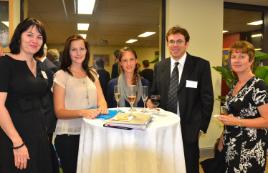 Two of our new Sonography students (centre) with L-R CQUni staff Dr Fiona Coulson, Dr Andrew Fenning and Susan Ferguson
This new program builds on CQUniversity's successful medical sonography program based at its Mackay Campus, in Central Queensland.
CQUniversity Vice-Chancellor Professor Scott Bowman attended the launch to welcome guests from Sydney's health and education sectors and to congratulate students and staff involved with the new program.
The Bachelor of Medical Sonography and Graduate Diploma of Medical Sonography offered by CQUniversity is a four-year linked degree/post-graduate diploma program. The combined program is the first of its kind in Australia, providing students the opportunity to enter the profession with no prior degree in a health sciences area.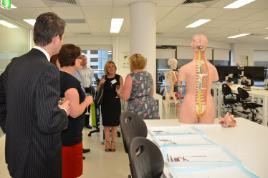 Launch guests tour the new facilities