A stitch in (bullet) time at Rocky Campus Open Day
Published on 22 August, 2012
Rockhampton residents who bring their cameras and smart phones to Open Day at CQUniversity Rockhampton Campus are invited to be involved in a 'bullet time' photography experiment, organised by the Multimedia program.
Photos will be taken in a circle around a moving subject, producing an animated 'bullet time' effect as popularised in The Matrix movie.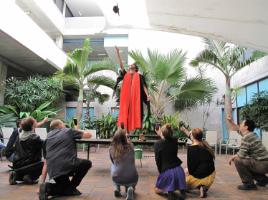 The bullet time photo rehearsal. Members of the public are welcome to participate in Sunday's experiment on campus
Lecturer Brendan Murphy says students recently experimented on campus to get an idea of camera angles. Study Abroad student David Farland, from Massachusetts, was happy to be the subject for the warm-up event.
"People can come and participate in the shooting of the bullet time then come upstairs and watch Multimedia students put the sequences together using industry-standard video production software," Mr Murphy says.
Open Day will be held between 10am and 2pm this Sunday, August 26. The bullet time photos will be taken at 10.30am and 12.30pm in the grassed area behind the amphitheatre.
More details are available via www.cqu.edu.au/openday
LINK also to Rocky campus puts on fresh face for Open Day this Sunday

Whether you are about to finish school, wanting to progress your chosen career or looking for a completely new direction, CQUniversity Open Days are the perfect opportunity to find out everything you want and need to know about your future study options.
Visitors can tour the campus, talk with lecturers and program advisors, get involved in information sessions, demonstrations and interactive displays, or enjoy the food and entertainment on offer.