More runs on board for youth mental health as thousands race on riverside
Published on 04 June, 2013
More than 2200 runners and walkers took part in the annual Rocky River Run on Sunday (June 2), ensuring more funds flowing to help reduce suicide risk in young people, thanks to a partnership between CQUniversity and the Rotary Club of Rockhampton.
The two organisations have established the Rockhampton River Run Foundation for Prevention of Anxiety and Depression.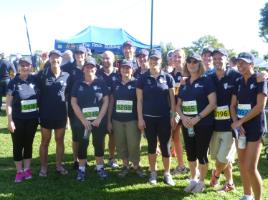 Some of the CQUni contingent for the Rocky River Run
The Foundation will help fund a study aiming to provide, and evaluate, services for anxiety-disordered youth and families at the Psychology Wellness Centre on Rockhampton Campus. This will boost the reach of effective intervention services and have a longer-term impact by reducing rates of depression and suicide risk in young people.
Rotary has confirmed that, due to the event's overwhelming success, it will be setting aside another $10,000 from this year's run, meaning there will now be at least $20,000 available for the Foundation in the 2013/2014 financial year.
LINK also to Getting runs on the board for youth mental health
CQUniversity staff member Melinda Scott was part of the University contingent at the Rocky River Run. Being fairly new to Rockhampton she enjoyed being able to see the 5km section of the journey.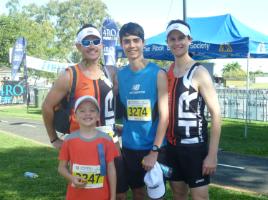 Sean Peckover and son Hayden (on left) with other competitors Miles Logvik (5km winner) and Jason Paull
"My motivation was to get involved in a community event, meet a few other people from CQUniversity and contribute to a good cause," she said.
Meantime, Dr Damian Ryan said his motivation was more about staving off 'ever fast approaching middle age' and 'keeping the grey matter well oxygenated through exercise', while he enjoyed the weather, the view from the bridge and the finish line.
Another CQUni staff member Sean Peckover has taken part in the River Run every year, usually in the half marathon as preparation for the Gold Coast Marathon.
"This year my seven-year old son Hayden wanted to run the 5km with me, so we ran together in the aim of breaking 30 minutes (which we did - 29.12). It was a great atmosphere at the finish as usual!"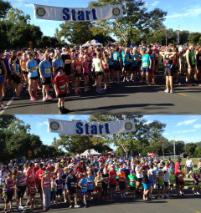 Crowds at the 5km start (top) and 2km start (bottom). LINK for larger images