Conference builds on interest in property with venues across CQ region
Published on 05 August, 2011
CQUniversity is hosting a half-day property conference on the afternoon of Friday, August 12 to provide property valuers, real estate agents and investors with a wealth of information about current trends and changes in policies and in the market place...
LINK to CQUni accredited to offer specialisations in property degree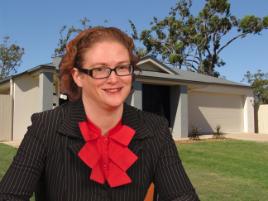 Associate Professor Kristy Richardson, coordinating a property conference
Event coordinator Associate Professor Kristy Richardson said the topics include:
- an update on the functions of the Queensland Reconstruction Authority;
- Satutory Valuation Reform in Queensland;
- Educational and Research Support for a Changing Property Profession; and
- an Economic Update.
The Conference will be hosted at
Rockhampton
Campus from 1pm-5.30pm and will also be accessible via video-conference at campuses in
Emerald
,
Gladstone
,
Mackay
,
Bundaberg
and
Noosa
.
You can register and pay online via these campus LINKs.
Registration for students is free, while Australian Property Institute members pay $44 and non-members pay $55. For further details contact Kristy Richardson via k.richardson@cqu.edu.au .