Dean builds bridges, promotes 'visibility of engineering'
Published on 24 August, 2012
Engineering is usually an invisible profession. Nobody notices when it's done well!
That's according to Dean of Engineering & Built Environment Professor Euan Lindsay, who expanded on this theme while addressing the Rockhampton branch of the Probus Club recently.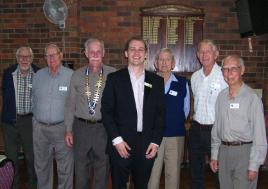 Professor Euan Lindsay with some of the Probus Club of Rockhampton members
Professor Lindsay said the CQ region had a very visible engineering environment because there was so much development relating to mining, ports and infrastructure.
He said the University also had a strong focus on the profession with completion of Engineering School refurbishments on Rockhampton Campus and the ongoing success of the Coop program, enabling students to work in relevant industries during their degrees.
Probus is a project of Rotary International and its name is derived from the words 'PROfessional' and 'BUSiness'. The Club is a community organisation for active retirees and semi-retired people who share ideas and information, coordinate multi-club opportunities for friendship, fellowship and social interaction, and organise events and activities.
LINK HERE for more details about Probus in Queensland
Also LINK for Engineering Precinct wins construction award