Engineering Precinct wins construction award
Published on 20 August, 2012
CQUniversity's Engineering Precinct on Rockhampton Campus has won a Master Builders Central Queensland Housing and Construction Award, in the 'Refurbishment/Renovation over $5 million' category. The award went to builder Paynter Dixon.
The $10.7 million refurbishment project was launched recently by Queensland Resources Council Chief Executive Michael Roche.
LINK also to Dean builds bridges, promotes 'visibility of engineering'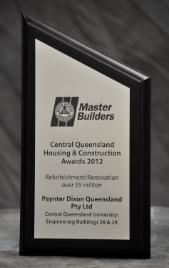 LINK for a larger image of the award
New facilities within the Engineering Precinct include labs for fluids, thermodynamics, thermofluids, geotech, concrete and structures, and electronics. There is also a new lecture theatre, a postgraduate area, a materials-testing area, an acoustic test cell, a soils store, and a multi-purpose project-based learning lab.
The new Precinct will also feature an Alumni Walk, which allows past graduates to purchase pavers and be recognised for their donation to the University.
The refurbished facilities have paved the way for further developments in Engineering at CQUniversity, such as the new Bundaberg Campus offering in 2013 and the proposed precinct to be constructed at Mackay Campus.