Indigenous partnership to continue, prosper
Published on 14 June, 2012
Pro Vice-Chancellor (Indigenous Engagement) Professor Bronwyn Fredericks is committed to engaging the local Aboriginal and Torres Strait Islander population through mutual partnerships.
Professor Fredericks recently met with Central Queensland Indigenous Development (CQID) representatives to discuss how CQUniversity can continue to improve education opportunites for Indigenous Australians through engagement and events...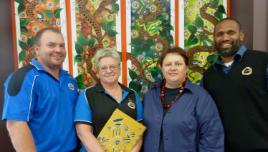 L-R: Mr Jason Field, CQID General Manager, Ms Betty Lappin, Pro Vice-Chancellor (Indigenous Engagement) Professor Bronwyn Fredericks and Mr Daniel Yasso
Recent joint initiatives between CQUniversity and Central Queensland Indigenous Development include the ATAP (Academic and Talent Aspirations Program) Challenge, held at CQUniversity Rockhampton from 31 May - 1 June this year, as well as the 5th Annual CQID Indigenous Reconciliation Carnival, which showcases some of the best Indigenous football talent in the state. The event attracted 6000 spectators from January 27 - 29 this year.
LINK to Dream big and be proud, Indigenous students encouraged and Soggy fields but spirits high as Indigenous Reconciliation Carnival gets underway
CQID's General Manager Jason Field outlined that literacy was a major issues for some Aboriginal and Torres Strait Islander people within the region, as well as access to facilities for training and education.
CQID is committed to generating and leading positive social change for Indigenous Australians and other people in our communities" Jason said.
"While our specific goals and objectives may vary from time to time, our first priority is, and always will be, ensuring that social change with positive outcomes is a constant part of the communities, agencies and individuals that comprise the Indigenous nations of Central Queensland, Australia and wider communities".
Professor Fredericks said she is "keen to support CQID and other Aboriginal and Torres Strait Islander organisations in working towards their goals and priorities and look for partnership opportunities to work towards improvements and change".