Uni dips wings to graduate who took flight safety to the 'Max'
Published on 13 September, 2012
A significant contribution to aircraft safety across the globe has been recognised with conferral of the degree of Honorary Doctor of Engineering on Max Davis PSM, during CQUniversity's graduation ceremony in Brisbane this week...
Mr Davis is an outstanding CQUniversity alumnus who has helped position Australia as a world leader in the technology of aircraft safety, reliability and longevity.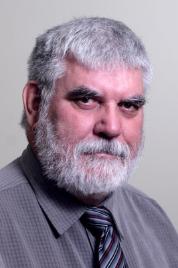 Dr Max Davis PSM
Specialising in the area of aircraft composite and adhesive bonded repair technology, his ground-breaking work has helped revolutionise the structural maintenance of aircraft resulting in improved defence capability, huge monetary savings and significant enhancement of the safety of both military and civilian aircraft.
Mr Davis also served as guest speaker for the ceremony featuring 108 graduates, including Campus Director Leadership awardees Antonella Clemente (Master of Management - Marketing); Sushil Kumar (Master of Information Technology); and Sanduni Sembapperuma (Bachelor of Accounting).
Now a private consultant, Mr Davis is Director of the Brisbane-based Adhesion Associates and one of Australia's foremost and widely acknowledged experts in his field. The commercial version of a hot-bonding unit that he developed is now the standard machine in use throughout the RAAF.
His exceptional contribution was formally recognised with the presentation of the Public Service Medal (PSM) in the Queen's Birthday Honours list in 2002 for 'outstanding public service in aeronautical engineering, particularly in the field of aircraft composite structures and adhesive bonding technologies'.
Max has a strong attachment to CQUniversity, as a Bachelor of Engineering (Mechanical) graduate of the predecessor Capricornia Institute of Advanced Education (CIAE) and later as a lecturer in mechanical engineering. He was one of the first two student members of the CIAE Institute Council and was an active Student Union member helping to formulate the constitution for the CIAE Student Union.
LINK also to Language leader a guest speaker for Melbourne graduation AND ChangeLabs rep addresses Sydney graduation