Lights, camera, action for Sam's multimedia career
Published on 11 October, 2012
Sam Martin was unsure of the direction her career would take when she graduated from the Bachelor of Multimedia Studies in 2011.
During her three-year degree at CQUniversity Mackay, Sam said she was interested in a range of areas of multimedia including film, 3D modelling, music and photography.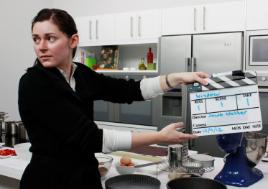 Former CQUniversity student Sam Martin in action. But a move to Brisbane saw the 21-year-old begin work as a content developer at Film Skills and she hasn't looked back.
Her current project involves developing video learning guides for a qualification in hospitality.
"This involves writing scripts, shooting video in our studio kitchen, editing the footage and adding motion graphics and animation in the post-production stage," Sam said.
"The great thing about my job is that I'm not restricted to one area of multimedia, which keeps things exciting.
"I'm involved in all areas of the content development process which is what I was hoping to do."
Sam said CQUniversity's Multimedia Studies program allowed her to develop and explore a range of multimedia skills which she used as her portfolio upon graduation.
Her 3D Glow Animation and Basket of Stars flash game is currently featured as part of the Raw Digitalent exhibition which on show until the end of October at the Central Queensland Conservatorium of Music.
LINK also to Interactive exhibition encourages audience to explore digital media
Sam said she was lucky to have experienced such a positive learning experience at CQUniversity Mackay.
"I made some very close friends during my time at CQUniversity and I really enjoyed the intimate learning experience that you get from a smaller university," she said.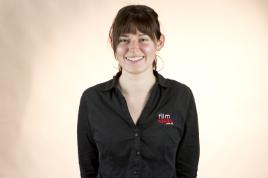 Sam Martin, Film Skills"It was a bit of a transition going from university life to working full-time however my experience at Film Skills exceeded my expectations of what I thought my first job out of university would be like."
"I feel extremely lucky to work with a group of such creative and talented people."