Karen to bring first-hand experience to Medical Imaging students
Published on 21 February, 2013
CQUniversity's new Medical Imaging lecturer Karen Finlay says a career in radiography is the perfect blend of the technical and caring components of health care.
Karen will share her many years of clinical teaching experience with student radiographers to develop their skills and allow them to become confident, reflective practitioners.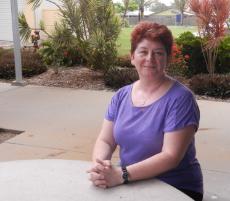 New Medical Imaging staff member Karen Finlay
"I've been involved in clinical teaching for years and while I enjoy teaching, I decided I would like to get involved in the academic side of radiography."
"To that end, I started on my Masters in Health Professional Education through CQUniversity."
Karen is one of four new academic staff in the area of Medical Imaging and Sonography at the Mackay campus. LINK here for story
Karen is originally from Doncaster, Yorkshire in the north of England. She has spent over five years working in private practices in Redcliffe and Rockhampton, as well as Breast Screen.
Not a newcomer to the medical imaging industry, Karen has spent almost 23 years as a radiographer, specialising in plain film reporting, trauma and forensic radiography and barium studies, as well as diagnostic radiography in the United Kingdom.
"Radiography is a fantastic profession if you want a blend of the technical, as well as the caring side of health care and if, like me, you're very nosey and like to see what's going on in people's bodies!"
Karen said she is looking forward to meeting CQUniversity students and working with modern equipment in the new Medical Imaging and Sonography Laboratories in Mackay.
"I'm thrilled to be using the Imaging Labs - they contain by far the best, most up-to-date equipment I've ever used in Australia."
A qualified scuba diver, Karen has embraced the Queensland lifestyle and is looking forward to soaking up Mackay's fine weather and seeing more of the region.