Sarah focused on double degree thanks to major scholarship
Published on 18 March, 2013
Rockhampton's Sarah Biskupski has the confidence to tackle a double degree in Business and Accounting at CQUniversity thanks to support from the John Maxwell Memorial Scholarship worth $5000.
The John Maxwell Memorial Scholarship has been established by The Rock Building Society in partnership with the University to honour the late John Maxwell and his contribution to the Rockhampton region.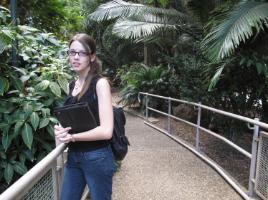 Sarah Biskupski on campusSarah is only the third student to receive the annual scholarship. She is focused on her studies but still finds time to coach a girls' soccer team based at her former school, Emmaus College.
CQUniversity's Development and Alumni Relations Director Suzi Blair says scholarships play a major role in helping students succeed at University.
"We'd appreciate hearing from any individuals or organisations who can see the benefits scholarships make possible," Ms Blair says.
LINK also to Memorial scholarship helps turn tragedy into hope