Holly on the right path to a health career
Published on 21 March, 2013
Holly Dalton's decision to study a health-related program is already paying off, as she relishes her new experiences at University.
The former Proserpine State High School student is studying a Bachelor of Medical Sonography and Graduate Diploma of Medical Sonography thanks to a BHP Billiton Mitsui Coal Pty Ltd (BMC) Scholarship through CQUniversity Mackay.
LINK here for more BMC and CQUni helping students build their career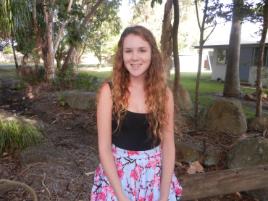 Cannonvale's Holly Dalton is enjoying her time at CQUniversity. The scholarships provide students with free accommodation and meals at the new student residence at Mackay Campus. The support is worth $60,000 to $80,000 per student for the duration of their studies.
"I wanted to do something in health and I thought sonography would be an interesting career path to take," Holly says.
"I have found the program to be really interesting so far and I love loving at Res in Mackay - it's great being so close to University and it's a good environment to be studying in."
Holly said the scholarship will take financial pressure off her during her time at university.
"I haven't had to rush out looking for a job or worry about money, meaning I can focus more on my studies which has helped a lot because there is so much content in the program that I need to study."
Holly wants to stay in the Mackay and Whitsunday region and work in a hospital setting upon completion of her program.
"I would like to thank BMC and CQUniversity for this very generous scholarship," Holly said.