Champion of inclusiveness lauded, programs backed by Uni volunteers
Published on 11 May, 2012
Reverend Bill Crews AM is a Minister of the Exodus Foundation, an organisation that exists to meet the immediate material, emotional and spiritual needs of disadvantaged and marginalised people.
Our staff and students have a regular, ongoing engagement with their community through the Exodus programs, including feeding homeless people and boosting schoolkids' literacy.
Others are providing expertise to help with the establishment of the Bill Crews Trust, which will have a more international focus.
Rev Crews' positive community leadership and many achievements were recognised in early May during a graduation ceremony for CQUniversity Sydney, held at Sydney Town Hall.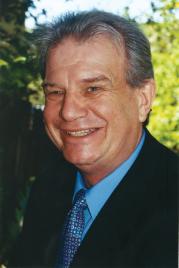 Rev Bill Crews AM has been recognised at the graduation for CQUniversity Sydney
LINK HERE for Rev Crews' Honorary Doctor of Social Work Citation
LINK also for Volunteering at Redfern Tutorial Centre
LINK also for Sydney students volunteer to help homeless youth
The degree of Honorary Doctor of Social Work was conferred on Rev Crews, who was also guest speaker for the ceremony catering for 224 graduates, including three with doctorates:
- Reyad Hamdan El Madi was awarded a Professional Doctorate (Transdisciplinary Studies) for examining logic control language;
- Francis Bobongie was awarded a Doctor of Professional Studies for strategies to enable girls and women in the Solomon Islands to access education through a creative mobile classroom;
- and Meng-Yi Huang was awarded a Doctor of Professional Studies for incorporating an on-line exchange student language program with second language curricula (in a case study involving Taiwanese and Australian students).
LINK also to Educational reformer addresses our Melbourne Graduation
Seasoned political reporter addresses Brisbane and Gold Coast graduates