Education popular in Cairns as CQUni welcomes flood of distance enquiries
Published on 01 March, 2013
The CQUniversity Cairns Distance Education Centre was a hive of activity recently as staff and student ambassadors welcomed new students.
The day was part of the CQUniversity-wide Orientation programs held in locations stretching from Cairns to Melbourne. A special Nursing Orientation Day was also held at the Centre.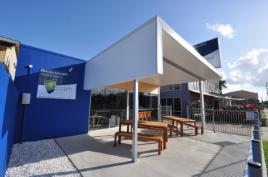 The CQUniversity Cairns Distance Education Centre staff are welcoming new students at Orientation on Saturday, February 16.
Senior Marketing and Engagement Officer at the Centre, Jodie Savina, said staff in the centre had been 'run off their feet' attending to current and new students interested in a range of different study options.
"We have been swamped with new enquiries since the New Year," she said.
"Our Paramedic Science and Nursing programs are proving extremely popular for students in the region, many of which are already working in the industry and are looking to upgrade their skills with a university qualification."
Ms Savina said she had spoken to a number of students who had indicated that the distance component played a major role in their decision to return to university.
"Distance education is making it easier for people from all walks of life to access an education and the Centre is one way to ensure our distance education students don't feel isolated."
CQUniversity's Alan Tucker has already spent a fulfilling career in the banking and finance industry but a decision to upskill led him back to university.
The Skills for Tertiary Preparatory Studies (STEPS) program has allowed Alan to begin his Diploma of Business via distance education at the CQUniversity Cairns Distance Education Centre. LINK here for story.
Second-year student Shaun Bruce is a member of the CQUniversity Cairns Taipans Academy and says distance education is giving him the opportunity to pursue his dream basketball career, while also ensuring he has a profession to fall back on. LINK here for story.
The Cairns Distance Education Study Centre is now open six days a week for students to use facilities and access assistance from staff and student ambassadors.
For more information, please contact the CQUniversity Cairns Distance Education Study Centre on 4031 1572 or visit http://www.cqu.edu.au/about-us/locations/cquni-cairns